Proctor Benefits from Physical Therapy Close to Home at HCHC
Author: Linda P
Category: Henry County Health Center Patient Stories
" Everyone was so kind and supportive. They will push you to do your best and get you back to normal as quickly as possible."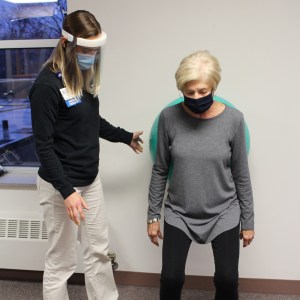 Following a total ankle joint replacement in March 2020, Linda Proctor from Mt. Pleasant had a choice of where to go for physical therapy. As soon as she was cleared, she called Henry County Health Center Rehabilitation Services to set up her schedule.
"It was so convenient to have these services just a few minutes from my home," Linda said. "Since I was going to therapy two or three times a week, I was glad I didn't have to drive to Iowa City all the time."
Linda, a retired elementary school teacher, couldn't have been happier with her experience at Henry County Health Center. At 73 years of age, she was a little scared about what was in store for her, but her therapists set her mind at ease.
"Everyone I saw was so positive and encouraging," Linda said. "There were times when I wanted my recovery to move faster than it was, and I would get discouraged. They always told me I was doing great and that little by little, I would improve."
And improve she did.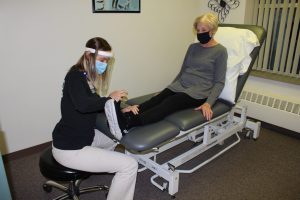 When Linda began therapy, she had to use a wheelchair to get to her appointments. Now, she is walking much better, can use a shoe and has very little pain in her ankle. But she still has work to do to improve her mobility.
Even though she no longer goes to Henry County Health Center's Rehab, her therapist worked hard to find exercises Linda could do at home to continue her progress.
"She really went the extra mile to find the best avenue of therapy so I would feel better," Linda said. "That's really what you want, someone who is your cheerleader and is personally invested in your recovery."
Linda would encourage anyone in need of rehab services to try Henry County Health Center.
"It's a wonderful service to have in Mt. Pleasant," Linda said. "Everyone was so kind and supportive. They will push you to do your best and get you back to normal as quickly as possible."