Patient credits recovery to outstanding care at HCHC
Author: Gregg R
Category: Henry County Health Center Patient Stories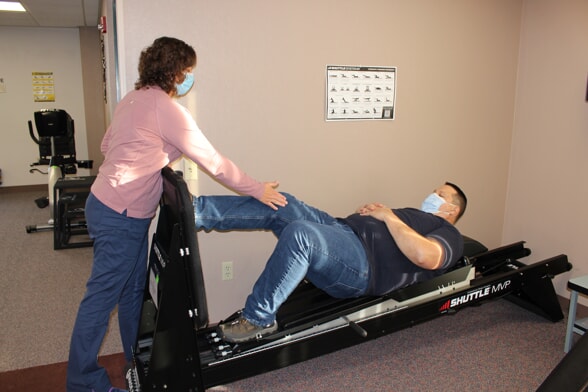 " I feel like I've come five times as far since coming to HCHC for rehab. The therapists here are very interested in helping me get better."
When Gregg Riley of Mount Pleasant needed surgery for a severed tendon, he trusted his care to Henry County Health Center. He knew he would be in good hands with HCHC Orthopedic Surgeon Dr. Joseph Tansey, and he also found HCHC Rehabilitation Services beneficial in his recovery.
"The past experiences by a family member with Dr. Tansey were positive. I was confident with what he had done to help her, so I felt confident with his decision on how to treat my injury," Gregg explained.
When Gregg slipped in a ditch, the tendon in his right leg that connects from his quad muscle down to his kneecap was severed. The tendon retracted six inches up his leg which required extensive surgical repair by Dr. Tansey to reattach the severed tendon.
This was Gregg's first time having surgery at Henry County Health Center and he couldn't have been more pleased with the experience and the care he received. However, surgery was just the start of his road to recovery. He went home the same day that he had surgery, but was non-weight bearing the first four weeks. Then the hard work began for Gregg as he started physical therapy at another facility. However, after six weeks of not seeing significant progress in therapy, he approached Sara Borders, HCHC Rehabilitation Services Supervisor, about doing rehab at HCHC.
"I discussed my goals with Sara. After I was evaluated by a physical therapist, I started physical therapy at the hospital. Every Tuesday and Thursday I did therapy for my leg one-on-one with a therapist. I decided to add strength training on my own on Monday, Wednesday and Friday because I had access to HCHC's gym. The therapists guided me through the strength training the first two to three weeks to ensure that I was doing everything correctly. I then continued on my own while they continued to work with me the other two days on rehab for my leg. It helped a lot in my recovery to exercise five days a week," said Gregg.
When he started at HCHC, Gregg discovered that he was doing some of his home exercises and stretches incorrectly. After that was corrected, he began going up and down stairs the third week of therapy which was one of his goals. Gregg saw significant gains with his therapy at HCHC.
"Dr. Tansey has been impressed with the progress I've made. I feel like I've come five times as far since coming to HCHC for rehab. The therapists here are very interested in helping me get better. I'm not just a number and they don't leave me to do exercises on my own. They are right by my side, they take my feedback, and they are always asking my pain level and how I am doing mentally. The support from staff here is great and they helped build my confidence. The biggest advantage is that they are right here by my side for the whole therapy session," he explained.
"Another tremendous benefit is that when patients complete therapy, they can continue to go to HCHC Rehab to do therapy and strength training on their own. Other places don't offer this. At HCHC, patients can continue to get better, stronger and healthier by having access to the gym through the Rehab maintenance program."
For more information about HCHC Rehabilitation Services, call 319-385-6103.