HCHC and GRH Team Up for Special Deliveries
Author: Meagan W
Category: Henry County Health Center Patient Stories
" You get the small-town clinic and nurses you are comfortable with and you're not inconvenienced by having to go out of town very often. They've done a really good job making sure everything works out and you feel cared for."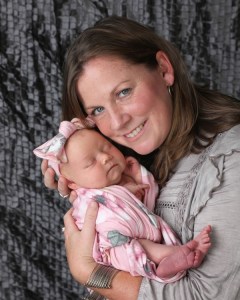 Meagan Wonders of Winfield was moving through her pregnancy according to plan at Henry County Health Center when it was announced that in June 2020, labor and delivery services would be moving to Great River Health in Burlington.
"When I first heard the news, I was a little disappointed that they were going to be closing the unit in Mt. Pleasant," Meagan said. "I delivered my son there eight years ago and I wanted to have that personalized attention you get from a small-town hospital."
Once Meagan learned that she could continue her prenatal and postpartum care in Mt. Pleasant with Kari Payne and Kendra Bonnesen, certified nurse midwives (CNM), she realized it was all going to be alright.
"Because I know them and was happy with the staff there, it made me feel very comfortable," Meagan said.
At her six-month appointment, Meagan met with Great River Health's Dawn Rohrer, CNM, in Burlington.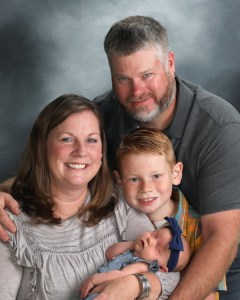 "I thought they might not know me there, but Dawn clearly had read Kendra and Kari's notes and made me feel like she had known me forever," Meagan said. "It was nice. You could tell they made sure they communicated with each other about their patients which made me feel confident in the transition."
She maintained her regular monthly check up rotation between Henry County Health Center and Great River Health. The trips to Burlington were easy.
"It is only half an hour from Winfield and 20 minutes from Mt. Pleasant so it was pretty easy," Meagan said. "It's not really any different than going shopping in Iowa City or getting groceries out of town."
When it came time to deliver, Meagan and her husband checked into Great River Health in Burlington. As it happened, Kendra was on-call to deliver Mckinlee Helen Wonders on August 26, 2020. Kari was at Great River Health on the second day.
"It was nice that both Kendra and Kari were able to be with us," Meagan said. "Dawn also stopped in to congratulate us."
Meagan was very pleased with how well coordinated her care was.
"Great River was excellent," she said. "Everyone was just so nice to us. I always felt comfortable and well taken care of. Actually, it seemed similar to our experience in Mt. Pleasant."
Being one of the first moms to deliver at Great River Health under the new arrangement, Meagan would tell any expectant mom to rest easy.
"You get the small-town clinic and nurses you are comfortable with and you're not inconvenienced by having to go out of town very often," Meagan said. "They've done a really good job making sure everything works out and you feel cared for."
Photos courtesy of Billi Gerling/Photographic Memories.