Des Moines County Community Health Needs Assessment Process Begins with Survey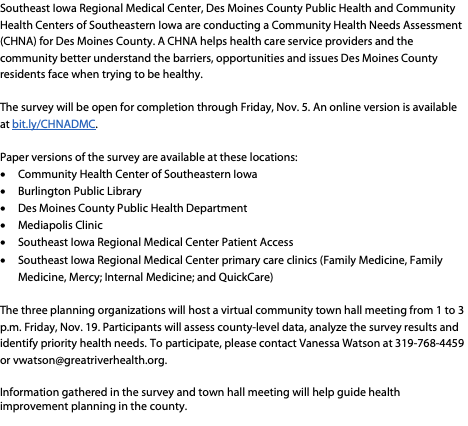 Southeast Iowa Regional Medical Center, Des Moines County Public Health and Community Health Centers of Southeastern Iowa are conducting a Community Health Needs Assessment (CHNA) for Des Moines County. A CHNA helps health care service providers and the community better understand the barriers, opportunities and issues Des Moines County residents face when trying to be healthy.
The survey will be open for completion through Friday, Nov. 5. An online version is available at bit.ly/CHNADMC.
Paper versions of the survey are available at these locations:
Community Health Center of Southeastern Iowa
Burlington Public Library
Des Moines County Public Health Department
Mediapolis Clinic
Southeast Iowa Regional Medical Center Patient Access
Southeast Iowa Regional Medical Center primary care clinics (Family Medicine, Family Medicine, Mercy; Internal Medicine; and QuickCare)
The three planning organizations will host a virtual community town hall meeting from 1 to 3 p.m. Friday, Nov. 19. Participants will assess county-level data, analyze the survey results and identify priority health needs. To participate, please contact Vanessa Watson at 319-768-4459 or vwatson@greatriverhealth.org.
Information gathered in the survey and town hall meeting will help guide health improvement planning in the county.