Great River Medical Center Names Abbott Employee of the Month
Category: News
Posted On: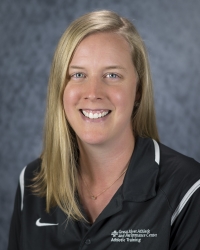 Sheena Abbott was named Employee of the Month at Great River Medical Center. She is a Rehabilitation Services manager.
Abbott, who also is the athletic trainer for Southeastern Community College, invited three SCC student athletes to Thanksgiving dinner at her home. Coming from New Zealand, Haiti and South Africa, they had no place to spend the holiday. Abbott and her family provided a great meal for her guests and an afternoon of relaxation and family time.
"Welcoming these young men into her home is a shining example of living Great River Health's credo and being committed to those we serve," said Jeffrey Taeger, director, Rehabilitation Services.