Stevens Named Great River Health Service Hero
Category: News
Posted On: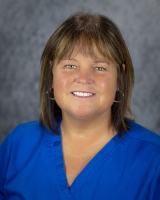 Cindy Stevens, Nephrology, received Great River Health's Service Hero award in June. Employees receive the award for demonstrating actions that extend beyond routine, expected behavior.
According to Stevens' nomination, a clinic patient needed a special medication that was not immediately available in the patient's chosen pharmacy. The Nephrology clinic had a medication sample, but the patient couldn't pick it up. Stevens took the medication to the patient's house.